Halloween Day in Lorraine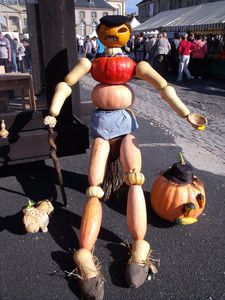 This morning, when I was driving in town, I saw a small group of children wearing Halloween costumes. A little one had a lovely ghost hat but was more interested in the lollypop he had in hand than by Halloween.
Last year I thought the celebration of Halloween was diminishing. This year, I would say it is different. I saw a few costumes, a few sweets at the supermarket and a bit more at the hard discount shop but much more advertisement for food than usually. Plenty of recipes with pumpkins are given, cupcakes recipes are shown and explained with ghosts, black cats, bats, pumpkin shapes...
As children are on holiday till Monday, there are also drawings or activities for Halloween which are proposed to parents.
All this let me think that what is organized this year is more "serious" than a few years ago. People spend money but don't waste it. They eat what they cook with Halloween ingredients, keep the children busy with painting, drawing, but don't buy expensive things which would only be used on one day only.
Partager cet article