Fossils in Lorraine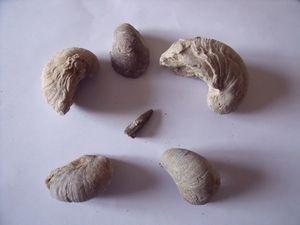 Each year Science Days are organized in October in France with a lot of different events. Two weeks ago the Maison du Sel in Haraucourt put fossils on display, most of them found in the local ground and lent by a farmer of the village. Posters showed when these fossils have lived and when they disappeared. A paleontologist explained how to search and work to find fossils and it was possible to "train" in a special square built for this occasion.
A few days before these Science Days my husband brought back home something he called "a fossil". As it had a bullet shape, I told him it certainly was a bullet dated WW1. There are a lot of commemorative events at the moment, our minds are often thinking about it. I cleaned the bullet-shaped thing, tried to check if it was metal but it really seemed to be stone.
And, by walking around in the Maison du Sel, I discovered "our fossil".It is called belemnite, it lived 65 million years ago and was quite similar to a squid. The one we have is small, about 3 centimeters long. There was one on display which was about 30 centimeters long. We are used to find a lot of fossils with a snail shape but this one is not so common.
When I was young we used to find ammonites from time to time, much bigger than these snails; Maybe one day we'll find a dinosaur, who knows ? And this makes us remind that Lorraine was a big sea when dinosaurs lived. It is difficult to imagine, isn't it ?
Partager cet article