Fête du Potimarron in Lunéville castle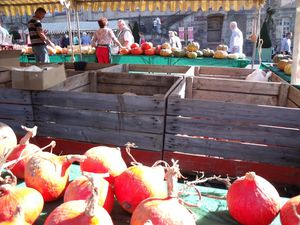 As last year we went to Lunéville last week end to enjoy the Fête du Potimarron (red kuri squash fair). It was the 25th fair and, this year, the crop was good. It was a warm and sunny Sunday, so there was a crowd near the castle and in the park.
People coming to the fair usually buy something. Some are interested in pumpkins or squashes or gourds, others in butternuts or uncommon cucurbitaceae. I chose butternuts this time as we can't find them easily at the supermarket and I am not sure to find them in the farm shop.
We discovered the Naples gourd, it is really big ! And one zucchini was on display, when it dries, the inside becomes like weft, that is very unusual. Another gourd was very long, straight, looking like a walk stick. People are always interested in plants which are not common and were standing there for a long time.
And we enjoyed looking at old apples of Lorraine, trying to find names we knew, and just nearby there were old tools people would not use any more as they are too heavy to work with nowadays. We also met several friends so we had a good chat in the sun, saying it was maybe one of the last warm days of the year.
Partager cet article