Ephemeral garden about WW1 on Place Stanislas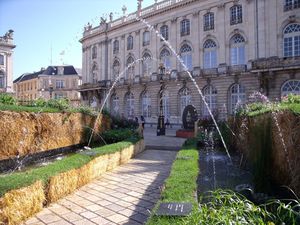 This year the subject of the ephemeral garden on Place Stanislas in Nancy is 1914, paysage fortifié (1914, fortified landscape). I wondered what can be done with plants to describe a war.
So, last week, we discovered different patches, each one with a written explanation. There was one about shell-holes, another built with plants to show the colours of the French and German uniforms. There was one about le pinard (a familiar word for wine) with vines and even a few grapes. Another had wood seats and people were listening to music of the beginning of the 20th century. There were balls made with scrap iron imitating cannonballs and also boxes of ammunition.
We finished our visit with a look at two trenches built with straw, water jets imitating gun fires and the pavement in the middle was described as the no-man's land.
The garden of this year was a good surprise for me. The exhibitions I saw about WW1 before were closer to reality, even the one in Lunéville castle. Plants made the subject not as hard, the garden is relaxing and very interesting with the explanations. There were plenty of people walking around on this sunny day and all seemed happy to be there.
Partager cet article