Wooden crosses for WW1 victims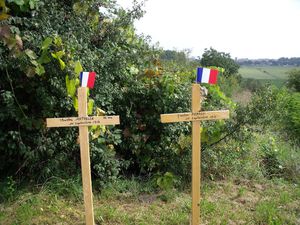 Since mid-August we have started seeing wooden crosses appearing around the village of Haraucourt. There must be about 40 of them now. Each one has got a first name, a family name, an age and a date of death painted on it. One cross per soldier killed on the territory of Haraucourt at the beginning of WW1 during the Battle of Grand Couronné.
When I studied WW1 in the 1970s, we didn't mention this battle but the whole war, step by step, and I found it difficult, too many names, too many places, too many dates. Then, later, I noticed people younger than me were not interested any more, hardly knowing the 11th of November 1918 is the end of WW1. Even trips to Verdun could not ignite a spark of interest.
So how was it possible to make people be involved in the commemoration of the beginning of WW1?
These wooden crosses are a good answer. The idea is already in our mind, one cross near a road means one death, we see them where accidents have happened. And the name, age and flag make people react. One man we know has said he "had to stop to read". Young people have explained they are shocked by reading the age of the soldiers.
This time, WW1 is not a story in books, it is history in a place people know very well, where they live. They can see it, feel it. It is reality.
I wondered if people would now remember. Yes, they do, and they want to know more.
Partager cet article