Which studies and job to choose in the Village des Métiers ?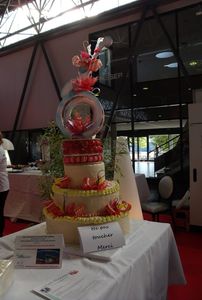 Sometimes parents have to go with their children to help them for a choice or just to get information. I did this on Friday with one of our children and went to a show called Village des Métiers (Village of Jobs) in Vandoeuvre-lès-Nancy.
We hoped to meet company managers but, in fact, it was much more a place where schools and universities were advertising for their trainings. The choice was interesting for teenagers who don't know what they want to do later.
And there were students working in front of us. Some were using wood, tiles, others were repairing cars or were looking after cattle. And some were cooking, one student was showing how to work with almond paste and creating lovely things. We didn't stay till another one prepared macaroons, I would have really liked this.
The show was very busy, noisy, but it was interesting, especially for me to keep "updated". Last year the same show happened in Metz, that's why we didn't want to miss it in Nancy, to discover what was on offer.
Partager cet article