Wedding day of August with local firemen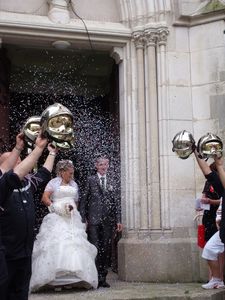 Well, one more wedding day this year, one more pleasant day.
This time was a bit special (but every wedding day is a bit special, isn't it ?) as it was the wedding of a local fireman. So all firemen who were not away on holiday were invited to wear their uniform, take their helmet and come to the church. At the end of the service, they went outside and stood on each side of the path, holding their helmet above the just married couple.
It happened to us too some years ago, as my husband is also a fireman. The uniform has changed in between but the atmosphere is the same. It is pleasant to see these men together enjoying this moment, without having to rush, without having to be serious.
And the weather was pleasant, people friendly, so we had a good time chatting and laughing.
All our best wishes again to the newly weds.
Partager cet article