Vézelise, the chamber pot of Lorraine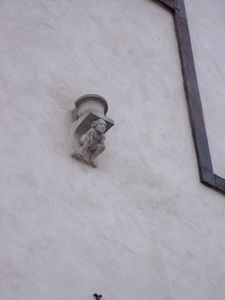 On our way to Vaudémont, I saw it and asked my husband if he had seen it. No. As he was driving in the narrow street, he could not look up, and that's why we stopped in Vézelise.
We parked the car and walked a few yards back. And, in the middle of a wall, we saw le pot de chambre of Lorraine. This chamber pot used to be at the corner of the house but there was a fire a few years ago and now it hangs in the middle of this big surface.
I don't know when it was made and put there. Apparently, the name pot de chambre de la Lorraine was given to Vézelise during the 19th century when there were still fifteen tanneries. The smell was so bad, and the town is in a hollow between two hills so it didn't help to get rid of it.
If my husband didn't know about the pot till recently, I have always known about it. One of my great-uncles used to say : "One foot on the hill of Sion, one foot on the hill of Bois d'Anon, and the rest above Vézelise !" French humour, we will say. I have never seen another town showing a chamber pot on a wall like this.
Partager cet article