Animals around the house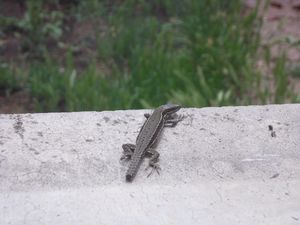 For quite a long time I have only been interested in birds and common butterflies coming near our windows. But, a few years ago, I realized there were new animals coming I had never seen near our walls before.
There are new birds as goldfinches which now come to be fed, but also a nasty sparrowhawk which chases the other birds. Last year I saw it killing a sparrow only two or three meters away from me.
And each year I discover new insects. The most pleasant to observe is the humming-bird hawk-moth (a long name for such a small thing), it goes from flower to flower without stopping. The one which impressed me most the first time I saw it is the carpenter bee, big and black, but harmless (for human people, not for one corner of my balcony which it uses to nest once a year, always the same hole, only one). And there are all these new insects I don't know, strange shapes, strange colours. Are they pest or not ? Maybe they are coming because our weather is warmer, or because they are looking for new areas.
This year, the new thing is lizards ! I had seen them in our garden near stones but now they are near the house. They are not big, about 20 centimeters long, tail included. They are not colourful, always a greyish beige. They are quick, but not enough to escape when our dog decides to chase them. The one on the picture must have met her and chose to relax on our window sill before moving again.
Partager cet article